If you followed my instagram over this past Med Season, then you would know how incredibly happy I was with my Interior Team. The girls were just outstanding to work with & there was never a shortage of laughter around the boat.
I also had the rare opportunity of hiring two junior stewardesses for this past season. I don't think enough yachts hire green stews and I really wanted to do what I could to help the newbies so I hired 2 greenies! I had over 400 cv's when I first posted about the position, it was quite full on as I looked at every single CV.
Majority of the DM's and messages I get are from New Stews wanting to get into the industry but aren't sure what to expect. So last week I asked if any of you had questions for a stewardess that has just completed her first season & called Paige, (one of my rockstar junior stews from last season) to see if she wouldn't mind sharing her thoughts from this past summer.
Meet Paige, a laundry rockstar & Demi Lovato's biggest fan.
Paige & Chandler, my two gorgeous junior stewardesses from last summer!
---
Hey, I'm Paige, a 22 year old South African Yachtie. Working in the yachting industry is something I had planned on for years! I come from a very small part of the country and saw yachting as a remarkable opportunity to experience parts of the world that I only ever dreamed of.  I had initially heard about the industry when my uncle had started working on the yachts many years ago, and then more recently when my older brother had headed to Florida as a deckhand.
Not knowing what I wanted to do after school, I went to Uni and ended up completing a post graduate honours in Financial Management. I knew that once I had handed in my thesis and graduated, that it was time for me to take a bigger leap and book a one-way ticket to Europe to pursue a career in yachting.
I was aware of the challenges that lay ahead, in trying to stand out from the crowd and land my first position as a junior stewardess. However, I was willing to take it all on as this was something that I have always wanted to do and I truly believed in my ability to be the best stewardess I could be. I have just finished my first season on board a 65M…what a season! I have learnt more than I ever imagined I would, both in the industry and in myself. I hope to eventually use my qualifications in the industry in a more senior position and aspire to be a purser. 
---
How long did it take you to get your first job?
I had been in Palma for about two weeks when I got a phone call from my Chief Stew. Gemma had seen a post that I made for myself on Facebook & I was lucky enough to receive a message from her asking for my CV! Within two days of a phone call interview and a few email exchanges, I had a one-way ticket to Barcelona where I joined the boat. I would highly advise making use of social media – be natural, positive, and most definitely ready to hit the ground running.
---
What was it like interviewing for your first job?
As a greenie in the industry, ensuring you have an interview is only half of the battle won. Seniors will only interview you once they have sifted through the hundreds of CV's they get and notice that you stand out from the rest. The other (and most important) half, is ensuring that your interview is successful. When Gemma interviewed me, I was of course very nervous. However, she made me feel very calm and asked me questions in a very relaxed way, which helped me answer truthfully and confidently. I was open and honest about my lack of experience. However, I was able to convey that I was eager to start and willing to learn as much as possible along the way.
---
Is the split between work and free time what you thought it would be?
This depends entirely on the boat and the time of the season. When I first joined my boat before the summer season had begun, we worked a regular 8am-5pm shift with weekends off. After 5pm we were able to do whatever we wanted, and were fortunate enough to do this in Barcelona! However, when the season began, the work hours became longer and it was very rare for us to have any days off. I truly appreciated when we did get days off during the season, as it was an opportunity to explore places of the world I had never seen before and it was a way of relaxing before getting back to work again. 
---
Have you found it difficult from being away from family and friends? Did you find it difficult to stay in contact with everyone?
YES. My family and I are extremely close, and even when I moved across the country back home to study at university, I was still able to see them regularly. It is slightly trickier doing that half way across the world! And when the reality sets in that you may only see them in a years time, it can be overwhelming! What I find most difficult is seeing family/friend get-togethers or Sunday lunches posted all over Facebook (Thanks mom!).  Whether it is small little "I love you" messages to my brothers or long WhatsApp calls with my parents, I always feel so much better once I have contacted them (especially after a long day!). No matter how busy you are during guest trips, or how bad the WIFI can be, send your loved ones a quick message when you get a little break – they will appreciate it more than you know (and quite literally, would just like to know where in the world you are!)
---
What did you do onboard when you were asked to do something that you didn't know how too?
I was never afraid to ask questions. I would much rather ask a thousand questions and complete the task correctly than wing it.  I was lucky enough to have a chief stew and second stew who were both very patient and always took the time to train me and show me how to do things a certain way.
---
What do you know now about yachting that you didn't know before your first season?
Before my first season, I was a complete greenie! There was a lot I thought I knew before embarking on this journey, however, that all changes once you step on board. You realize that your seniors have been doing this for many years before you so their advice, guidance and experience is a lot more to go by than what you once assumed. 
---
Favourite part about working on board?

 
No matter how overwhelmed I was, or how much laundry I had to get through, having fun with my crew  always made the world of a difference. Getting to know each crew member one on one and forming friendships with them was one of my favourite parts. Don't get me wrong – not everyone will be your cup of tea. But you don't realize how close you get to many of your crew members after sharing living spaces with them, eating with them, working with them and socializing with them! My crew had an incredible sense of humor, and when I look back on my first season, I remember having a lot of good laughs. 
---
What was a highlight you didn't expect?
My boat spent many days at anchor during the summer, and our captain was kind enough to let us use the water toys every so often when the owners had left for a few days. I am a complete water baby by nature, so being able to take the sea bobs out, ride the jetskii's or go paddle boarding in the beautiful turquoise water of the Mediterranean was most definitely a highlight of the season for me! Nothing beats catching a tan on the swim platform and going for a dip in the sea after a day of work!
Paige didn't add in that she's the BIGGEST Demi Lovato fan & convinced us all to go to her concert in Barcalona. The tickets were only 4 Euros & Paige was given VIP, front row tickets when she arrived. Safe to say, she was on cloud nine for a solid 7 days after that & Demi was being played on repeat in the Laundry room!
---
What was the toughest part that you weren't expecting or prepared for?
Before joining my first boat, I knew that when the guests were on that it would be a lot of work. The truth is, you don't really know what "full steam ahead" is until you're actually doing it – it requires a lot of physical AND mental endurance. During guest trips, there is very little time for yourself and I suppose I was very naïve to expect otherwise! 
---
What was the most surprising skill that you learned and used?
I definitely learnt a lot about time management with my time on board. I found that after a few weeks of doing things over and over, that I got better and faster. I learnt how to prioritize tasks – super important when you are under pressure and need to get everything done whilst still maintaining a high level of quality.  
Thank you so much Paige for taking the time to share your thoughts & stories with everyone! I hope this helps all of you that had questions about starting out onboard! If you are looking into yachting as a possible career, check out this blog post (CLICK HERE) to learn all about how to get started!
Big hugs,
Gem xo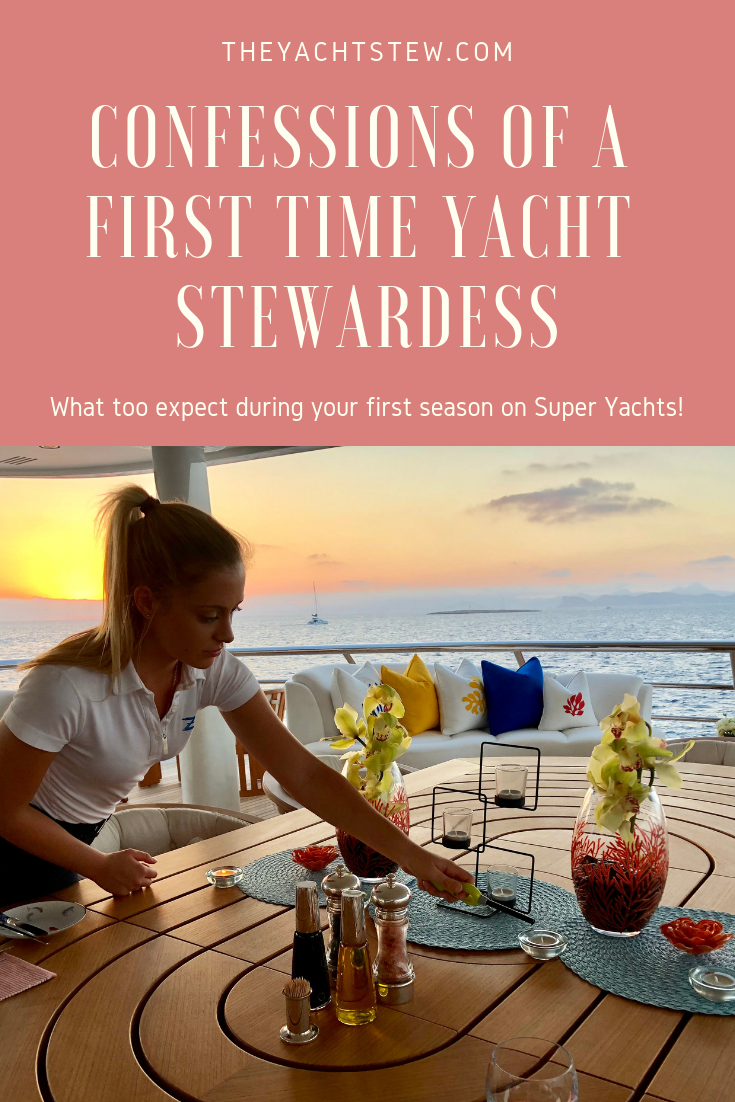 SaveSave
SaveSave
SaveSave
SaveSave
SaveSave
Latest posts by Gemma Hulbert
(see all)